Is Grass Flammable? The Surprising Truth
The grass is a common sight in our everyday lives, from the front lawns of our homes to the sprawling fields of farmland. But many people may not know that grass can be surprisingly flammable despite its seemingly harmless nature.
In this blog, we take a look at the science behind grass and flames to uncover the answer to the question: is grass flammable?
What Is Grass?
The grass is one of the most common plants in the world. It is found in almost all ecosystems, and it is incredibly diverse. Grasses can be found in various climates, and they have adapted to survive in virtually any environment.
But what is grass, and why is it so important? The grass is a type of flowering plant. It is a member of the Poaceae family, which includes various plants, including wheat, rice, and maize.
Grasses are unique in their leaves, stems, and flowers that grow from the same plant. The leaves are usually thin and flat, and the stems and flowers are small and inconspicuous.
Grasses can be divided into two basic categories: the cool season and the warm season. Cool-season grasses tend to be more shade tolerant and prefer cooler temperatures. Warm-season grasses are more heat tolerant and prefer warmer temperatures.
Grasses are incredibly important to the environment. They help keep the soil healthy and provide food and shelter for animals and insects. Grasses are also an important source of food and feed for humans.
Grasses are also used for landscaping. They provide an aesthetically pleasing, low-maintenance way to add beauty to any garden, lawn, or yard. Grasses can also help to reduce soil erosion and improve water retention in areas with low rainfall.
Is Grass Flammable?
Yes, grass can be flammable, especially when it is dry. Dry grass has a low moisture content, which makes it easier to ignite and burn. Grass fires can spread quickly and can be very dangerous, as they can threaten homes, wildlife, and people's lives.
Grass fires can be extremely dangerous, and they can spread quickly. The grass may not be flammable, but it can fuel a larger fire.
This is why it is important to be careful when starting a tall grass fire and follow safety guidelines.
In some cases, grass can act as fuel for a fire. This is especially true in cases where a homeowner has allowed the grass to become very dry and the blades of grass have dried to a crisp.
In this situation, the grass can ignite and help spread the fire to other combustible materials.
Is It Safe To Burn Grass?
Burning grass can be a safe and effective way to manage overgrowth and control weeds in your lawn, as long as you take the proper precautions and follow local regulations.
Burning grass is a popular method for controlling weeds in many areas and can be done quickly and effectively with minimal effort.
The biggest safety concern when it comes to burning grass is the potential for starting a wildfire.
The grass is highly combustible and can be ignited easily. If the fire is not contained and managed correctly, it can quickly spread to nearby structures, vegetation, and even people.
Grass burning is also very labour-intensive and time-consuming, so planning the activity carefully and preparing for unforeseen weather changes is important.
When burning grass, it is important to take all safety precautions. First, obtaining the necessary permits from your local fire department is important.
Next, choose an appropriate site for the burn and ensure the area is free of flammable debris and other combustible materials.
Also, ensure that the area is well-ventilated and that you have a water source nearby in an emergency.
Is Burning Grass Toxic?
Burning grass can release toxic chemicals and pollutants into the air, harming human health and the environment.
The smoke from burning grass contains a mixture of gases, particulate matter, and other harmful compounds that can irritate the eyes, nose, and throat and cause respiratory problems.
The specific toxicity of burning grass depends on several factors, including the type of grass, the conditions under which it is burned, and other materials that may also be burned along with the grass.
Some grasses contain oils or resins that can produce more toxic smoke when burned.
Burning grass can also release carbon dioxide and other greenhouse gases, contributing to climate change. For these reasons, burning grass is generally not recommended, and in many places, it is illegal.
If you must burn grass, it is important to follow local regulations, takes precautions to minimize the release of pollutants, and avoid burning during periods of high air pollution.
Is Burning Grass Bad For The Environment?
Burning grass is a common way of clearing land or disposing of unwanted grass clippings, but unfortunately, it can be very bad for the environment.
Burning grass can release pollutants into the air, including nitrogen oxides and particulate matter, which can cause serious health problems for people and animals and contribute to climate change.
Grass burning can also release carbon dioxide, a major contributor to global warming.
Additionally, burning grass can deplete the soil of nutrients that are essential for healthy, sustainable plant growth.
If done in large amounts, burning grass can damage ecosystems and adversely affect wildlife, including pollinators and other animals that depend on the grass for food and shelter.
When burning grass, it's important to take the necessary precautions, such as using an approved burn barrel or pile and ensuring the fire is attended to at all times.
Burning grass should only be done by local regulations and with respect for the environment.
In some areas, burning grass is not allowed at all. Instead, homeowners can use mulching mowers to chop grass clippings into small pieces and leave them on the lawn to decompose naturally.
Mulching mowers also help keep the soil moist and cool, which is beneficial for grass growth.
Does Burning Grass Cause Pollution?
Yes, burning grass can cause pollution, releasing harmful chemicals and compounds into the air.
The smoke from burning grass contains particulate matter, carbon monoxide, nitrogen oxides, sulfur dioxide, volatile organic compounds, and other pollutants that can cause health problems and contribute to air pollution.
Burning grass can also release greenhouse gases, such as carbon dioxide and methane, contributing to climate change.
These gases trap heat in the atmosphere, leading to rising temperatures, changes in weather patterns, and other impacts.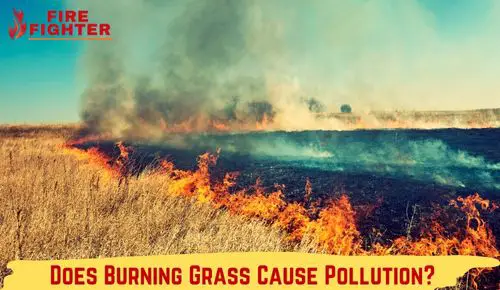 Particulate matter, for example, can cause respiratory problems, such as coughing, wheezing, and shortness of breath, and can also aggravate existing heart and lung conditions.
Carbon monoxide can reduce the amount of oxygen in the blood, leading to headaches, nausea, and dizziness. Nitrogen oxides and sulfur dioxide can contribute to acid rain, smog, and other forms of air pollution.
Is Burning Grass Fumes Dangerous?
The smell of freshly cut grass reminds of long summer days spent outdoors, but it can also be risky. Burning grass fumes can be dangerous if inhaled for an extended time.
The dangers of burning grass fumes come from the chemicals released when it is burned. As the grass burns, it releases nitrogen oxides, carbon monoxide, and volatile organic compounds.
These compounds are known to be hazardous to human health, particularly if inhaled over an extended period.
For instance, nitrogen oxide is a respiratory irritant and can lead to respiratory illness. It can also cause lung inflammation and even increase the risk of cancer.
Carbon monoxide is a colourless, odourless gas that can cause headaches, dizziness, nausea, and even death if inhaled in large amounts. Volatile organic compounds (VOCs) can also be released from burning grass fumes, many of which have been linked to long-term health effects.
Is Burning Leaves Dangerous?
Burning leaves can be dangerous for several reasons. First, burning leaves can release harmful chemicals and pollutants into the air, such as carbon monoxide, particulate matter, and volatile organic compounds, irritating the eyes, nose, and throat and can cause respiratory problems.
These pollutants can also contribute to air pollution and smog, which can have long-term effects on human health and the environment.
Second, burning leaves can be a fire hazard, especially if they are dry and in windy conditions.
The fire can quickly spread to nearby vegetation, trees, or buildings, damaging property and endangering human lives.
Third, burning leaves can also harm wildlife and their habitats. Leaves provide shelter and food for many species, and burning them can destroy their homes and reduce their food sources.
Is Green Grass A Fire Hazard?
Green grass is a common sight in many yards and parks, providing a lush bed of vegetation that is pleasing to the eye and a great place for children and pets to play. But is green grass a fire hazard?
The answer, surprisingly, is yes. While grass does not burn, it provides fuel for a fire. This is especially true in dry climates and during periods of drought when the grass is highly combustible.
In fact, a single spark can start a raging fire during extreme drought conditions with catastrophic results.
It is important to note that the fire risk associated with green grass is not due to the grass itself but rather the conditions that surround the grass.
The fire risk is greatly reduced when grass is appropriately watered, carefully trimmed, and maintained. In addition, green grass acts as a natural fire retardant, as the moist soil and dense vegetation help slow the flames spread.
What Class Of Fire Is Grass?
Grass fires are classified as Class A, which involve ordinary combustibles such as wood, paper, cloth, and certain types of plastics. Class A fires are the most common type of fire and can occur in homes, offices, other buildings, and outdoor environments.
Grass fires are hazardous because they can spread quickly, especially in dry conditions, and can be difficult to control. Various factors, including lightning strikes, cigarettes, campfires, and other ignition sources, can cause them.
To extinguish a Class A fire, it is generally recommended to use water or a fire extinguisher that is rated for Class A fires. Aiming at the fire's base and continue applying water or extinguishing agent until the fire is completely out is important.
In addition, it is important to be aware of any potential hazards, such as falling debris or hot embers, and to take precautions to avoid injury or further damage.
How Fast Can Grass Fires Spread?
Grassfires are one of the most dangerous and destructive forces of nature. Even small grass fires can spread quickly and cause extensive damage, loss of lives, and property damage.
So, how fast can grass fires spread?
It is difficult to predict the speed of a grass fire accurately. This is because grass fires are affected by various factors, including the type of grass, the wind speed, and the weather conditions. However, in general, grass fires can spread incredibly quickly.
Grasses are full of easily combustible material, so when a spark ignites a grass fire, the flames can spread very quickly.
Depending on the weather conditions and the type of grass, a single spark can ignite a grass fire that can spread across hundreds of acres in minutes.
The wind is another factor that can affect the speed of a grass fire. Strong winds can fan the flames, quickly spreading the fire, while gusts can cause the fire to move in unpredictable directions.
The weather also significantly impacts the speed of a grass fire. Hot, dry conditions can cause grass fires to spread even faster, while cool, wet conditions help to contain them.

Why Do Firefighters Burn Grass?
Firefighters are responsible for preventing and controlling fires, so it may seem counterintuitive for them to set fires intentionally. However, in some cases, burning grass can help firefighters achieve their goals.
Setting fires to burn grass is known as "prescribed burning" or "controlled burning," It can be used to reduce the potential for larger, more dangerous fires.
When firefighters set fires to burn grass and other vegetation, they can reduce the fuel that could potentially cause and spread a larger fire.
This type of burning can also be used to improve the health of a particular ecosystem. In some areas, certain vegetation types can become overgrown and dense, inhibiting the growth of other species and restricting the movement of native wildlife.
By burning grass and other vegetation, firefighters can help create an environment that is more conducive to the ecosystem's health and reduce the risk of large-scale wildfires.
In addition to these benefits, burning grass can also help firefighters determine the best way to approach a fire.
By burning the grass around the fire, firefighters can create a buffer zone to assess the situation better and determine the most effective approach. This can help firefighters save time and resources while they work to get the fire under control.
What Fire Extinguisher For Grass Fires?
It is generally recommended to use a fire extinguisher rated for Class A fires, as grass fires fall under this category.
Class A fire extinguishers are designed to extinguish fires that involve ordinary combustibles such as wood, paper, cloth, and certain types of plastics.
The most common type of fire extinguisher for Class A fires is a water extinguisher, which is filled with water and pressurized with air. Water extinguishers work by cooling the fuel and reducing the temperature of the fire.
They are effective for grass fires as they can quickly extinguish the flames by soaking the fuel.
In addition to water extinguishers, other fire extinguishers that can be used for Class A fires include foam and dry chemical extinguishers.
Foam extinguishers smother the fire and separate the fuel from the oxygen, while dry chemical extinguishers work by interrupting the chemical reaction that sustains the fire.
How Do You Survive A Grass Fire?
Grass fires can be devastating, but if you know what to do and how to stay safe, you can survive one. Here are a few tips to help you survive a grass fire:
Be prepared: If you live in an area prone to grass fires, make sure you have an emergency kit ready that includes essential supplies such as food, water, a first aid kit, and important documents. Also, create a fire-safe zone around your property by removing flammable materials such as dry leaves, brushes, or dead trees.
Know the signs and move quickly: Most grass fires start quickly and spread rapidly, so you must know the signs and react swiftly. If the wind picks up and the air smells smoke, it's time to move.
Choose a safe location: You want to find an area away from the fire and preferably has some cover. This could be a large boulder, a cluster of trees, or even a small pond.
Stay low: The ground is usually the safest place during a grass fire, as the heat and smoke tend to rise. Crouch down and cover yourself with wet blankets or clothing to protect yourself from the heat.
Protect yourself: If caught in a grass fire, find a clear area with little or no vegetation. Cover your nose and mouth with a damp cloth to avoid inhaling smoke, and protect yourself from the heat by wearing long sleeves and pants made of natural fibres. If possible, seek shelter in a building or vehicle.
Cover your nose and mouth: Smoke from a grass fire can be very harmful, so protecting your lungs is important. If you don't have a mask, use a wet cloth to cover your nose and mouth.
Don't panic: Keep your wits about yourself and stay calm. Remember, the fire will eventually pass and you'll be able to make it out unscathed.
Call for help: If you cannot evacuate or find shelter, call for help and provide your location and any relevant information about your situation. Stay on the line until the emergency responders arrive, and follow their instructions.
How To Burn Grass Safely?
Check local regulations: Before burning grass, check with your local fire department or environmental agency to ensure that burning is permitted in your area. Obtain any necessary permits and follow any regulations or restrictions that may apply.
Choose a safe location: Select a location for burning that is well away from buildings, trees, and other flammable materials. Clear an area around the burn site and create a fire break by removing any dry grass or other combustibles.
Prepare the site: Mow or plough the area to be burned to create a firebreak and reduce the fuel available. Ensure the grass is dry and that no wind could cause the fire to spread.
Have tools ready: Have a shovel, rake, and water source (such as a hose or fire extinguisher) on hand to control the fire and to extinguish any hot spots or embers.
Start small: Begin by burning a small area and gradually increasing the fire's size as conditions allow. Never leave a fire unattended, and keep a close watch on the fire at all times.
Extinguish the fire: Once the grass has been burned, use the tools and water source to extinguish the fire completely. Ensure that the area is cool and that no hot spots or embers could reignite the fire.
Remember, burning grass can be dangerous, and it is important to take all necessary precautions to ensure that the fire is controlled and that there is no risk of it spreading. If unsure how to burn grass safely, consider hiring a professional or contacting your local fire department for guidance.
Conclusion
The grass is highly flammable, and it is important to take the necessary safety precautions to reduce the risk of a grass fire.
If a grass fire does occur, it is important to act quickly to put it out or evacuate the area. By understanding the combustibility of grass and taking appropriate steps, you can help to minimize the risk of a grass fire in your area.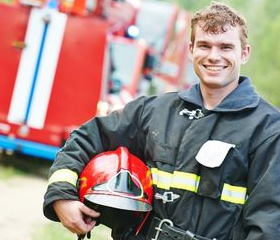 Hi, I m Aaron Smith, a firefighter, and creator of Firefighterline.com, a website that provides top-notch training courses for firefighting organizations. After completing my studies, I quickly rose through the fire service ranks, eventually becoming Captain at one of the busiest fire departments in the state.